Autism is a condition that impacts every member of the family. Most people experience different feelings from time to time. A family therapy opportunity can help every member of your family feel important while also working to give them the support they need. Family therapy programs specifically geared toward autism can provide tools, resources, and support that will be instrumental in your child's ability to thrive.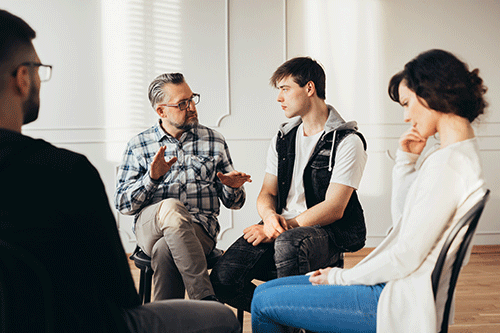 At Camp Worth, we provide a comprehensive family counseling program designed just for families with autism needs. Reach out to our team today at 855.915.2545 for more information about autism spectrum disorder therapy programs.
What Is a Family Counseling Program?
A family counseling program allows members of a family living together to come into counseling for one-on-one and group therapy. You'll work closely with a counselor to develop a better understanding of autism, as well as its impact on your life and health. During this type of counseling program, we aim not just to support a person with autism but also those who live with and support that individual on a daily basis.
Why Is Family Therapy Important?
A family counseling program at an autism treatment program offers a number of benefits. There's little doubt that autism changes the family dynamic and makes responsibilities, experiences, and goals much different. Depending on the severity of autism, some families may need more counseling than others.
There are clear benefits and outcomes of engaging in family therapy. This includes:
Improved communication between members of the family
Enhanced coping skills for difficult experiences
Support for each family member's mental health needs
Strengthening of family relationships
Education about autism spectrum disorders
Right now, each member of your family may want to help and support an individual with autism. Yet, they may not know how to go about doing so. They may be frustrated, scared, and overwhelmed by an autism diagnosis. You simply may not know what to do. In family therapy, we work on this. We give you the strength you need to perform at your best for your desired outcome.
Family Therapy Supports Families on Autism Journeys
Developing a strong family to support the autism journey is critical in many situations. One of the ways we can help you is by providing you with tools to work through developmental transitions. This can help your family to support your loved one's growth and development. Some examples of this help include:
Supporting improved communication
Handling times of strife and conflict, including violence
Mitigating risks to your loved one
Support them through puberty and into adulthood
Siblings may need support in understanding their role
Managing transitions in school settings or caregiver changes
Autism Is a Life-Long Challenge
There's no cure for autism. However, there are strategies and tools available to help families support those who need them. That includes improving the way family members communicate both to the individual with autism and with each other. If tensions are high and you're overwhelmed with being able to balance it all, this type of therapy may be an exceptional opportunity for you. We also offer an autism parent training program to help you with every step along the way.
Each person in your family is important to you. Furthermore, while autism can seem to take over every aspect of your family's growth and development, there are strategies to help you overcome these limitations. We'll teach them to you in a positive, motivational manner while we work with and support your child with autism to their best potential.
Family therapy can provide lasting resources and support to navigate an autism diagnosis throughout an individual's life and provide their loved ones with the tools they will need to help them as they grow, learn, and experience more.
Meet Your Family's Needs with Help from Camp Worth
A comprehensive family counseling program can help bring you and your loved ones back together. It may change the way each member of the family feels, acts, and responds to others. Family therapy can be a critical component of autism support and therapy. Learn more about how we can help by calling Camp Worth at 855.915.2545 today or filling out our online form and letting us get back to you.