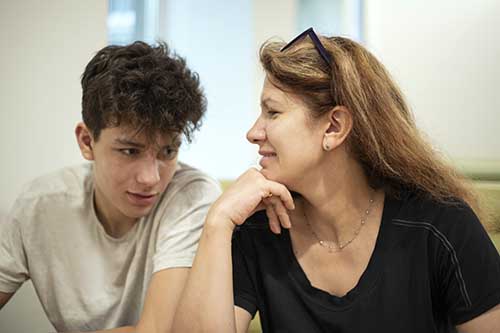 There is a great deal of confusion surrounding the term "autism parent-training program" when it comes to autism spectrum disorder treatment programs. This confusion is due in part to the fact that ASD is such a complicated and varying disorder. But it also has to do with the aims of parent training. Should our goal be simply to educate parents about their child's disorder? Or are we training parents to perform interventions to teach their child and adjust their child's behaviors? And which areas of ASD can we most fruitfully teach parents? Language skills? Social skills? Correcting disruptive behavior?
In the autism parent-training program at Camp Worth, we have a specific goal: to help you better understand your child's needs, and thus to make your home life better for all involved. We also use our autism parent-training program to help you ease your child's transition back into the home after a stay in our residential facility.
As a parent, it can be challenging to know how best to treat your child's autism spectrum disorder at home. At our autism parent-training center in Ft. Worth, TX, we can give you the tools you need to help your child develop.
What Will I Learn in an Autism Parent-Training Program?
At our autism parent-training center in Ft. Worth, TX, parents learn many transferable skills that they can use at home with their autistic child. We use a combination of discussion-based techniques and interactive models to teach parents and caregivers the skills they need. Among these skills are:
Solving the day-to-day problems that arise. These might involve social interactions in and outside of the home, and communication issues, among others.
Managing negative behaviors. Disruptive behaviors are a standard part of the ASM diagnosis. We can help you to deal with and avoid such behaviors.
Increasing coping skills. Being unable to handle situations that do not fit an autistic child's routine can be difficult. In our autism parent-training program, we can teach some practical approaches to helping your child cope more effectively.
Improving communication. One of the primary symptoms of ASD is difficulty communicating. We can provide strategies that can ease the burden of this symptom.
Improving play skills. Because of the problems that autistic children have with social interaction, play can be difficult or impossible for them. As a parent, you can encourage healthy play in a variety of ways, and as a part of our autism parent-training program, we will address this in detail.
Improving independence. Life skills and self-sufficiency are areas that are traditionally very difficult for children — and adults with ASD. At Camp Worth, we can provide tips and strategies to help improve your struggle.
The skills that children with ASD lack can be challenging to overcome. As parents and caregivers, however, we can help them on their road by providing them with new ways of approaching their problems.
Contact Camp Worth Today
There is no cure for autism spectrum disorder. But as caregivers and parents of autistic children, there are steps that we can take to give them what they need to live more fulfilling lives. Our autism parent-training center in Ft. Worth, TX, is founded on a simple principle. And that is that hands-on care at a facility like Camp Worth, in conjunction with trained parent involvement, can make lives better. It is never too early to get started. Discover all that our autism parent-training program has to offer by reaching out to us online today, or by calling 855.915.2545. You don't have to do it alone.