When you receive an autism diagnosis for your son or daughter, it's easy to become discouraged and worried. What can you do? At Camp Worth, we provide a wide range of tools to support your child and encourage them to develop into the functional adult you know they can be. One way we do this is through an individual therapy program. We've designed his type of one-on-one therapy to meet your child's specific needs. To learn more about the benefits of this treatment, reach out to our team today at 855.915.2545.
How Does an Individual Therapy Program Work?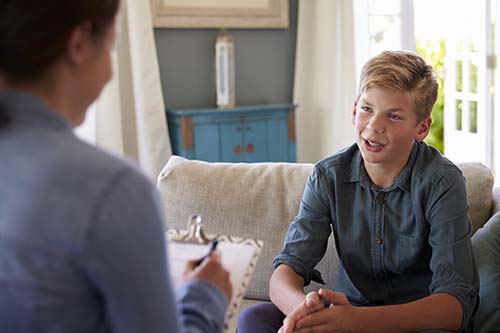 We work with teens between the ages of 11 and 17 facing an autism diagnosis. During our individual treatment program, we'll provide one-on-one support to your child. That means we get to know them. We learn what their needs are. Then, we work with them to achieve their best possible outcome. This type of focused support in an individual autism therapy program makes all of the difference to many children.
One-One-One Therapy for Social Skills Training
One way we enhance outcomes for our clients is by providing one-on-one therapy for social skill training. This practice allows us to work with your son or daughter on their specific needs on things such as conversation or picking up cues from others. You know what your child needs to learn to grow. We facilitate that through this type of individual therapy.
Taking Highly Functioning Children to the Next Level
We've designed our individual autism treatment programs to give your child what they need to reach their next level. Many of the people we work with are high functioning. That means they have some problems and communication limitations, and our goal is to help improve that. Because we work with your child, we can tailor training and therapy to fit their particular needs. That changes for each one of our clients.
Empowered Through Individual Therapy Program Options
At Camp Worth, your son or daughter receives the tools and resources to support their growth and development. This treatment is a focused effort and one we've designed to address your child's individual needs. As a result, each person's path with us is a bit different.
We offer a range of therapies to help. These treatments may include:
These are some of the essential resources for families. If you're frustrated with not knowing what to do to help your child grow and explore new opportunities, these tools can support you. They give you the hope your child deserves.
What Is the Value of an Individual Treatment Program Like This?
Each person's outcome is a bit different. However, we've designed our individual therapy program to facilitate the best possible outcome in every case. There are numerous benefits to programs like this, such as:
Improving communication skills
Creating targeted goals to work towards based on your child's needs
Creating stability within your home life
Helping frustrated children to get some way to communicate
Developing coping mechanisms for everyone involved
An individual treatment program is an empowering opportunity for most people with autism. It uses proven methods to teach children how to function in today's world. Our one-on-one therapy may help to change the life of your child or teen and give them some of the support and guidance they need to flourish.
Explore the Support Available at Camp Worth
Your son or daughter deserves the best available individual treatment. An individual therapy program can be an empowering opportunity for many. Our team at Camp Worth offers that support. Learn more about our one-on-one therapy, how it works, and how it can help your child. Call us at 855.915.2545 for more insight.